"Get Endless New Clients"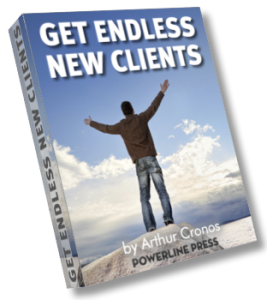 What if your sales, week after week, and month after month, were reliable and predictable? And you could increase sales anytime you wanted?
The best-kept secret methods of the most profitable companies in the world are revealed in this new book from Arthur Cronos, completely describing how Automatic Selling Systems are designed and built. Because when a business struggles, it's rarely a lack of expertise. In fact, most entrepreneurs are brilliant at their core technology. They regularly produce excellence. But nearly all have one devastating weakness … weak marketing.
And that's because the learning curve of marketing is as steep as everything you mastered to learn your business. Few humans master both, and there's no time. The answer? Follow Arthur's method revealed in this book to build your own Automatic Selling System. Simply follow the step-by-step analysis and guidance given inside, and with this inside information, create and install an Automatic Selling System, a "Sales Engine" custom-designed for your specific business, to ensure Reliable Cash Flow, month after month.
FREE BONUS: Special Report "13 Deadly Marketing Mistakes that can Destroy Your Business, and How to Fix Them,"and if you qualify, Profit Jet Newsletter and free "How-To" Business-Marketing
Available on Amazon in 300 page print edition complete with graphs and "how-to-apply" business examples, and also in Kindle e-reader format, which Kindle Unlimited members can read for free. A complimentary print copy will also be shipped to you free, along with additional bonuses, with our "Profit-Maximizer Audit."

---
"The 4 Proven Marketing Methods to Ensure 25% Growth in the Next 12 Months"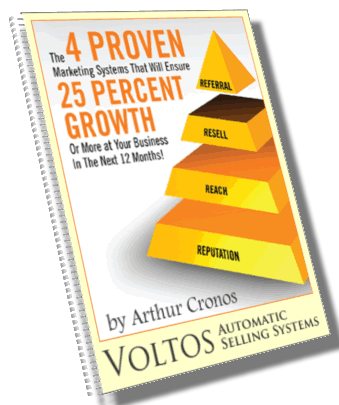 Why "old-school advertising" doesn't work anymore, and how search engines, social networks and mobile devices (e.g. smartphones) have radically changed the game for local businesses.
Examples of the handful of businesses that are pulling away from the pack, and those that are falling behind … and why.
How to get customers, and even people who have never bought anything from you, to introduce you to new buyers by the hundreds!
What you can do to drive growth in a strategic and sustainable way—without distorting your business model or reinventing the wheel.